There are some things in life that people simply have to experience first hand. Riding a roller coaster. Catching a wild brook trout. Running a mile for time. Dating someone out of your league…this is what life is all about. If you're a baseball fan, you have to see a game at Wrigley Field. If you eat food, you have to try the spicy fried chicken at Gus's Fried Chicken in Memphis. You just have to. You haven't lived until you've experienced that chicken.  Likewise, if you're a beer drinker, there are certain beers you have to drink. At least once. We've thought long and hard about what those quintessential beers are—the ones that everyone should try—and we've come up with a hearty list of 100 that define the American craft beer scene. Some of these beers would be considered the best beers in the country, if not the world. Others can hold their own, but earned a spot on this list because of the role they played in the craft beer movement. Is this a definitive list of beers everyone should try? Dear Lord, no. If you truly love beer, you should try them all. Even the bad ones. At least once. But this list will get you started.  Here's the first round from the master list—we'll be counting down all week. We hope you're thirsty. 
100. Dale's Pale Ale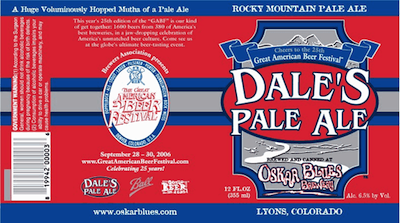 Brewery: Oskar Blues 
City: Lyons, Colo. 
Description: Look, this is the beer that started the can-revolution. If it weren't for Dale's, we wouldn't have Bell's in a can. Or Sweetwater, or…you name it. Someone had to go first, and Oskar Blues was that someone. The fact that this is a really good pale ale (a bit of citrus and bitterness underscored by just enough bready, malt backbone) is just icing on the cake. What we really loved (and still love) was that this was the first good beer you could take on the river. 
99. Breckenridge Vanilla Porter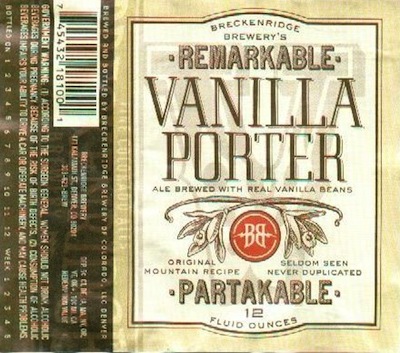 Brewery: Breckenridge Brewery 
City: Breckenridge, Colo. 
Description: A foundation of chocolate and roasted nuts is enlivened by the addition of vanilla beans in this porter that is so decadent, I'm always amazed it's a year-round beer. It has such depth of character, you'd expect it to be an annual Christmas present. But nope, you can pick up a sixer of this treat any time you want. 
98. Brooklyn Brewery Lager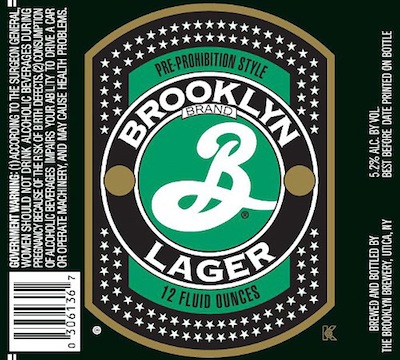 Brewery: Brooklyn Brewery 
City: New York City 
Description: Consider this the antithesis to all of the super-hopped IPAs you'll find on this list. Brooklyn's Vienna-style lager is mellow, subtle, biscuity but not bland. This has more depth than most American lagers you'll come across—more malty amber than crisp lawnmower beer. 
97. Surly Brewing Darkness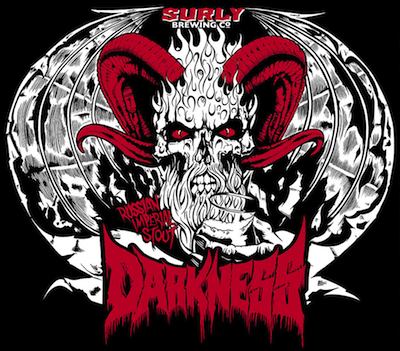 Brewery: Surly Brewing Company 
City: Minneapolis, MN. 
Description: It's a good thing this vicious Russian imperial stout only comes around once a year. It's burly, pushing 10% ABV and 85 IBUs, but decadent with heavy notes of chocolate, raisins and coffee. Clear your schedule in October. This beer demands a commitment. 
96. New Belgium Fat Tire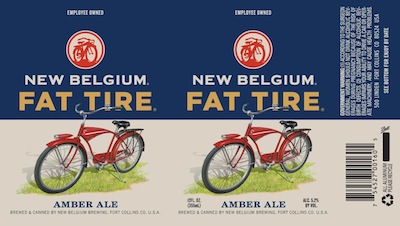 Brewery: New Belgium Brewing 
City: Fort Collins, Colo. 
Description: It's easy to gloss over the importance of Fat Tire in today's dynamic craft beer scene, but youngsters please remember, this was the beer that prompted many an East Coaster to make a pilgrimage across the Mississippi. For many of us, Fat Tire was the gateway brew into the tasty world of craft beer. 
95. Gigantic IPA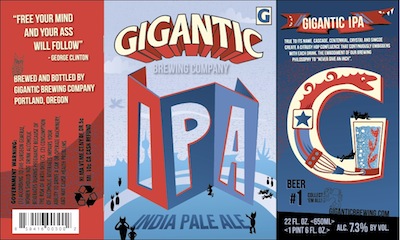 Brewery: Gigantic Brewing Company
City: Portland, Ore. 
Description: Gigantic is a fickle bunch known for only producing one-off beers. Catch them while you can, because once they're gone, they're gone. Except for the Gigantic IPA. That one's always on tap, always citrusy, always hoppy, and yet it shows some restraint compared to other West Coast IPAs, which seem to be battling it out for hoppiest brew. 
94. NoDa Hop Drop n Roll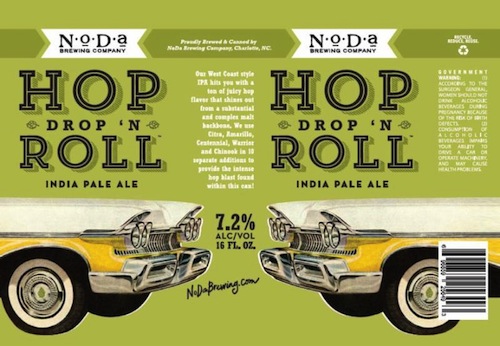 Brewery: NoDa Brewing
City: Charlotte, N.C. 
Description: Okay, this is a relatively new beer compared to some others on this list, but let's talk street cred—Hop, Drop 'n Roll won gold for American-style IPA at the 2014 World Beer Cup. Boom. If you're looking for an IPA style model, look no further than this hoppy brew. Plus, it comes in Tall Boy cans. Respect. 
93. Sam Adams Boston Lager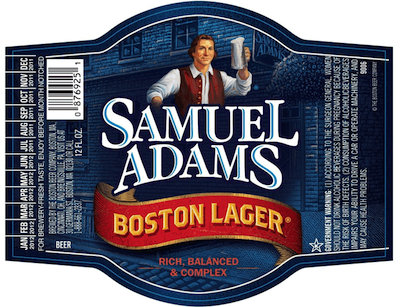 Brewery: Boston Beer Company
City: Boston, Mass. 
Description: Okay, if there's one beer on this list that everyone's probably already tried, it's Sam Adams Boston Lager. For decades, Boston Lager was essentially your only craft beer option. Picture your standard bar in the '80s and early '90s with a half dozen taps full of macro crap, then on the end, there's Sam Adams, offering refuge. 
92. Green Flash Palate Wrecker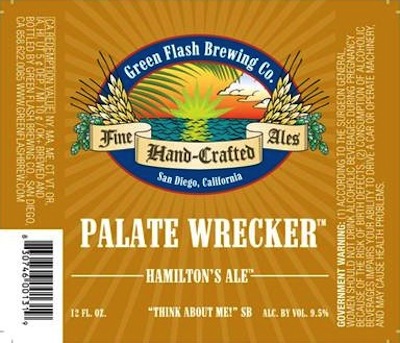 Brewery: Green Flash Brewing
City: San Diego, Calif. 
Description: The bottle of this Imperial IPA says, "aggressive," and for once, the marketing speak is an understatement. Do not trifle with this 9.5%, hop-charged beer. Green Flash recently changed the recipe of some of their flagship beers to be more like Palate Wrecker, and for good reason: once you have a beer like this Imperial IPA, your standard IPA doesn't quench your thirst anymore. 
91. Dogfish Head 90 Minute IPA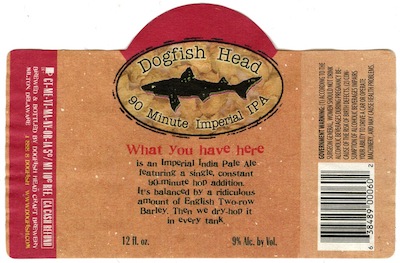 Brewery: Dogfish Head 
City: Milton, Del. 
Description: Dogfish Head continuously hops this beer for 90 minutes (thus the name), then throws in some dry hopping to create one beast of an imperial IPA clocking in at 9% and 90 IBUs. But what I truly respect about 90 Minute, is that you can get this beer any time of year, almost all over the country. It's a big beer, but also an accessible and consistent beer. Not an easy task.
90. Pipeworks Citra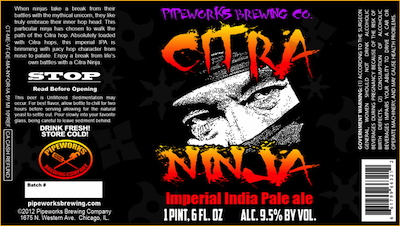 Brewery: Pipeworks Brewing Company
City: Chicago, Ill. 
Description: Pine and citrus battle it out inside this big, 22-ounce imperial IPA. It's nice to see the Middle of America knocking the West Coast style of IPA out of the park. Citra often gets compared to IPA standouts like Heady Topper, so expect something life-changing if this is your first experience. 
89. Widmer Brothers Hefeweizen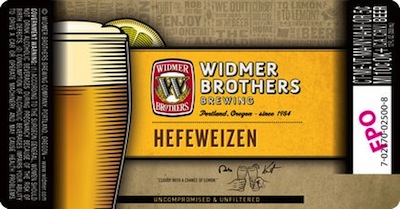 Brewery: Widmer Brothers 
City: Portland, Ore. 
Description: Widmer Brothers has been putting out quality beers for 30 years and it's one of the few American breweries that claims a Hefeweizen as their flagship beer. In other words, this is the American Hefe that all other American Hefe's are judged by. This is the beer that we put a lemon wedge in first. 
88. The Bruery Saison Rue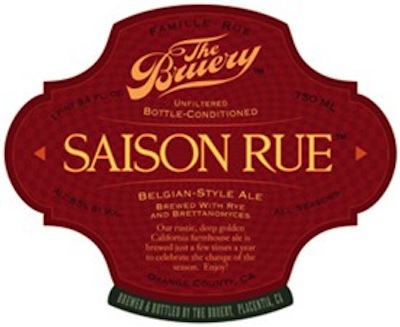 Brewery: The Bruery
City: Placentia, Calif. 
Description: Ah, the Saison—the once-obscure farmhouse style of ale that American craft breweries have breathed new life into. Saison Rue is at least a little bit responsible for that revival thanks to its complex notes of spice, yeast and funk. See the full review here, but be forewarned, Saison Rue might be your "gateway drug into the high-end micro brew scene." In other words, be prepared to get a second job. 
87. Foothills Brewing Sexual Chocolate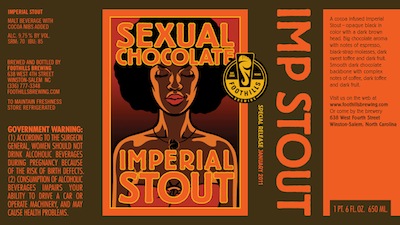 Brewery: Foothills Brewing
City: Winston Salem, N.C. 
Description: This is one of those much-anticipated annual releases that people line up for the day before it's released. The fact that this imperial stout has one of the best names in the business is probably reason enough to pick up your first bottle (you should definitely get the t-shirt, too). But you're almost guaranteed to seek out a second bottle after you sample the silky, cocoa goddess inside. 
86. Avery Uncle Jacob's Stout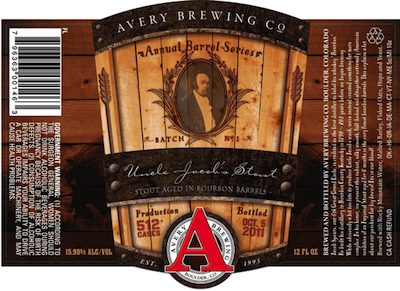 Brewery: Avery Brewing Company 
City: Boulder, Colo. 
Description: Yes, another imperial stout (and we're only in the mid-80s of this list!), but I haven't met a beer geek yet who could resist Uncle Jacob, part of Avery's much-loved annual barrel-aged series. The stout hangs out in bourbon barrels for six months. In a word, it's robust. And potent. Okay, that's two words. At over 17%, it's one of the biggest beers you'll find in a 12-ounce bottle. 
85. The Alchemist Focal Banger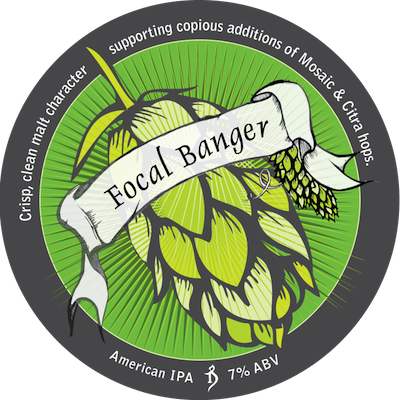 Brewery: The Alchemist 
City: Waterbury, Vermont 
Description: The Alchemist is famous for brewing Heady Topper (a double IPA you'll see further down this list), but Focal Banger is Heady Topper's more restrained little brother. For years, The Alchemist only brewed and canned Heady Topper, but Focal Banger now literally doubles the boutique brewery's options. It's new, it's hot, and now you can find it in cans…if you're in Vermont and happen to catch one of The Alchemist's pop-up can sales. 
84. Hill Farmstead Abner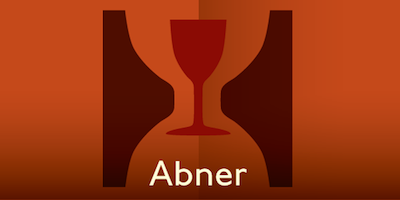 Brewery: Hill Farmstead 
City: Greensboro, VT. 
Description: Another small Vermont brewery here, except instead of a superior IPA, we have a superior double pale ale. Forget the style guidelines, this beer is unfiltered and double dry-hopped. The IBUs are off the charts, so don't go looking for the balance you'd typically find in a pale ale. Just gear yourself up for an extraordinary hop experience. 
83. Westbrook Gose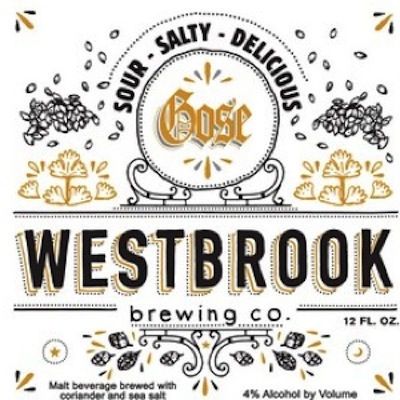 Brewery: Westbrook Brewing Company
City: Mount Pleasant, S.C. 
Description: The Gose is a recently revived German-style of sour wheat beer that incorporates salt and coriander. Our editor in chief went ga-ga for Westbrook's version, which is in fact "sour, salty, and delicious" as the label suggests. This is a low ABV, summer beer, but nothing like the low ABV summer beers that you're used to. 
82. Firestone Walker Union Jack IPA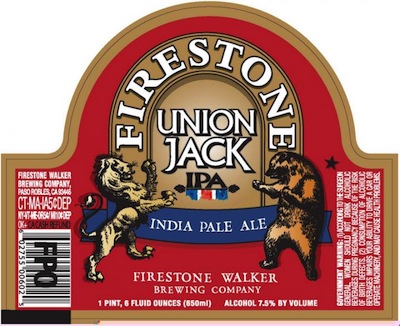 Brewery: Firestone Walker
City: Paso Robles, Calif. 
Description: This is a true interpretation of the West Coast IPA, with plenty of grapefruit and hop bitterness on the backend, but there's a real sense of balance here as well. And after drinking some of the double IPAs you'll find on this list, Union Jack might feel downright understated.
81. Highland Cold Mountain Winter Ale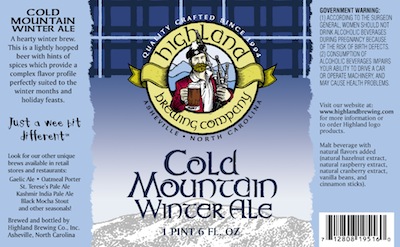 Brewery: Highland Brewing Company
City: Asheville, N.C. 
Description: Can you bottle Christmas? Yeah, Highland can. The recipe changes slightly every year, but you're guaranteed to find a malty, slightly spicy, incredibly vanilla treat inside each bottle. Sadly, like Santa Claus, Cold Mountain only comes around for briefly every winter. And supplies never last. Get it if you can. 
80. Sierra Nevada Pale Ale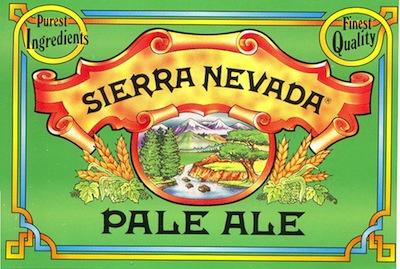 Brewery: Sierra Nevada Brewing Co.
City: Chico, California
Description: There is perhaps no single beer that better encapsulates the American craft beer movement. Sierra Nevada's namesake pale ale is iconic for all the right reasons: bold yet balanced flavors that have left an irrefutable mark on American brewing culture. Every time I take a sip of the ale and am hit with the wave of pine-and-citrus flavors, I'm reminded why craft beer is exciting. It's about people with daring visions; it's about bucking mediocrity; and it's about flavor. Talk to craft brewers and you'll hear it again and again: there's still no better American pale ale; Sierra Nevada Pale Ale might even be the best craft beer being brewed today.—John Verive
79. Allagash White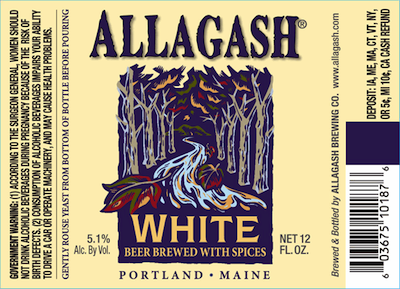 Brewery: Allagash Brewing Company
City: Portland, Maine
Description: The Belgian witbier is the Rodney Dangerfield of the craft beer world—it gets no respect. It's a style that's as popular with megalithic multinational breweries as it is with craft neophytes who haven't yet discovered a love for hops, but seasoned craft fans often overlook these light, flavorful brews. The flagship White from Allagash may be America's best example of the style that prizes complexity and drinkability equally. Witbiers should be light, tart, crisp, herbal and spicy; it's extremely difficult to get all those flavors in balance, but Allagash has it figured out. Don't make the mistake of thinking witbiers are only for newbies, or worse yet that they're "chick beers"; Belgian wits are refreshing brews made for the outdoors, and they're unexpectedly versatile with food.—John Verive
78. Anchor Steam Beer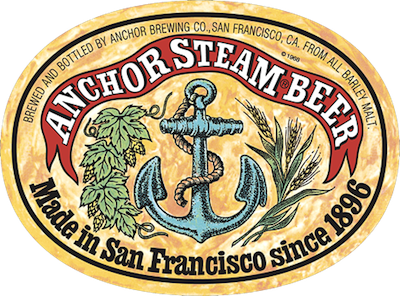 Brewery: Anchor Brewing
City: San Francisco, California
Description: An American original style that harks back to the era before the scourge of prohibition devastated the country's brewing industry, steam beer is fermented with lager yeast at warmer temperatures more common to ale brewing. Anchor Steam is round and full-flavored but with a crisp and clean finish from the lager yeast. The beer is hopped entirely with Northern Brewer hops, which provide the signature woody, herbal (some even say minty) character to the aroma and flavor. Anchor is one craft brewery that predates the craft beer movement, and every glass of Anchor Steam is like tasting American brewing history.—John Verive
77. Alpine Duet IPA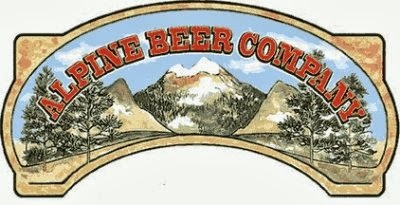 Brewery: Alpine Beer Company 

City: Alpine, Calif. 

Description: Simcoe and Amarillo hops comprise this duet, but it may as well be called Simon & Simon, because there's no Garfunkel in this batch. A brilliant harmony of the respective pine and citrus profiles give this single IPA the boldness of a double, with well-rounded bitterness you can drink for days. It's never been easy to find, but thanks to some tank generosity by Alpine's San Diego neighbor, Green Flash Brewing, a couple hundred additional kegs will make it into the world this year. Do not pass up a chance to taste it.—Ian Anderson
76. Russian River Supplication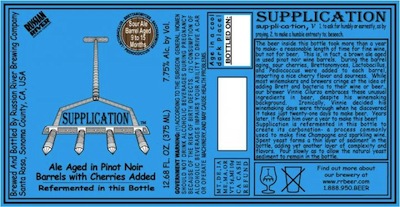 Brewery: Russian River Brewing Company
City: Santa Rosa, California
Description: Sour beer and wild ales seem to be the next frontier for American craft brewers, and Supplication from California's lauded Russian River Brewery is a showcase for just how transcendent these brews can be. A brown ale that spends a year in Sonoma County Pinot Noir barrels with a menagerie of microflora (not to mention heaps of sour cherries), Supplication is complex, tart, and rich in oak flavors. The brewery's hoppy brews and more limited sour beers seem to get all the press, but Supplication is a superlative example of what can happen when old world techniques are blended with American ingenuity.—John Verive
75. Craftsman Cabernale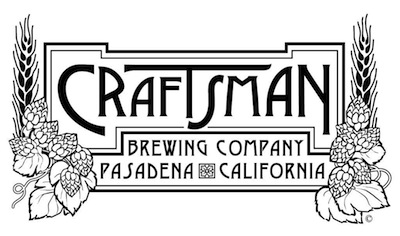 Brewery: Craftsman Brewing Company
City: Pasadena, Calif.
Description: The craft beer movement got off to a slow start in Los Angeles, but even in the dark days (the mid-nineties) there was an artist and engineer working away at his scratch-built brewhouse in a Pasadena garage. Craftsman's Mark Jilg is the godfather of craft in L.A., and he's spent nearly 20 years chasing elusive brews he calls "complicated beers." His Cabernale is a marriage of wine and beer that predates the current popularity of these hybrid brews. It's dark and rich and balances malt presence with the vinous zing of tannic grape must. It is a brew that is difficult to grasp with the first sip, but that's all the more reason to keep sipping a glass while puzzling out the beer's compelling subtleties.—John Verive
74. Bell's Two Hearted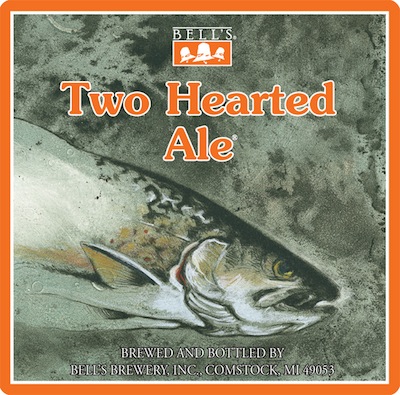 Brewery: Bell's Brewing Company 
City: Kalamazoo, Michigan
Description: The IPA has become synonymous with American craft beer, and the popular West Coast interpretation of the style—all about hop punch and crushing bitterness with little regard for balance—dominates the selection on tap lists and bottle shop shelves across the country. I adore the thrilling hop-bombs of my home state of California, but I think that the best IPA in the country is actually closer to the style's English roots: Bell's Two Hearted ale. It's a beer so atypical among the craft beer landscape that the brewery doesn't even call Two Hearted an IPA, but that doesn't mask the accomplishments of the brewers who've created an ale that is at once rich with malt flavor, pungently hoppy, and eminently drinkable. It's the beer that tastes how you used to imagine beer should taste.—John Verive
73. Deschutes Black Butte Porter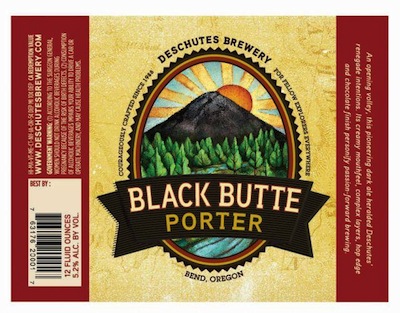 Brewery: Deschutes Brewery 
City: Portland, Ore. 
Description: This is the beer that they'll have to pry from my cold, dead hands. Dark, smoky, complex, satisfying…Pack your floss, this isn't a beer so much as a meal. Black Butte Porter is Deschutes' flagship beer, and it seems appropriate that one of the Pacific Northwest's greatest breweries would hang its hat on such a hearty brew.—James Stafford
72. Half Acre Daisy Cutter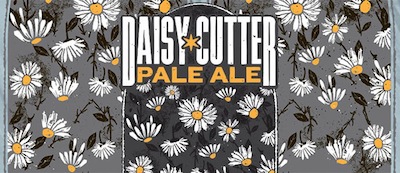 Brewery: Half Acre Beer Company
City: Chicago, Ill. 
Description: Okay, technically Daisy Cutter is a Pale Ale, and it has the ABV of a pale (a quaffable 5.2%), but its flavor profile is more inline with a fresh IPA. Think aggressive hop bitterness with strong notes of pine and citrus. Think juicy…but there is balance here, a malt backbone pulling the beer back into pale ale territory. It's the kind of pale ale that makes you wonder why other pale ales aren't as outgoing.
71. Smuttynose Finest Kind IPA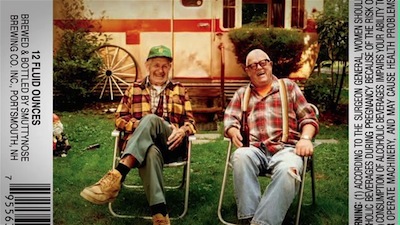 Brewery: Smuttynose Brewing Co. 
City: Portsmouth, N.H. 
Description: When beer geeks argue amongst each other about who makes the best IPA in the country, countless names could be thrown into the mix, but Smuttynose deserves a mention in the conversation, thanks to Finest Kind, a hop-lover's beer that takes "bitter" to new levels. An aggressive, unfiltered IPA that hits hard with bitter grapefruit notes, Finest Kind can give most West Coast IPAs a run for their money, adding fodder to the growing East Coast/West Coast brewing smackdown.
70. Hair of the Dog Adam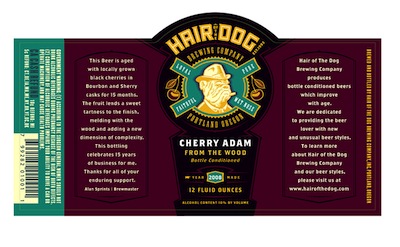 Brewery: Hair of the Dog Brewing Company
City: Portland, Ore. 
Description: Hair of the Dog is one of those wildly creative, boutique breweries that specializes in bottle-conditioned beers that improve with age. These beers are investments in the future. If that's not frustrating enough, they love to produce beer styles that most of us have never heard of. It's not the most accessible beer out there, and Adam might not be your first choice if you're new to the craft beer game, but it's a brew that beer drinkers can strive to grow into. Drink it kind of warm, and let the notes of chocolate and leather (yes, leather) conquer your palate.
69. AleSmith Horny Devil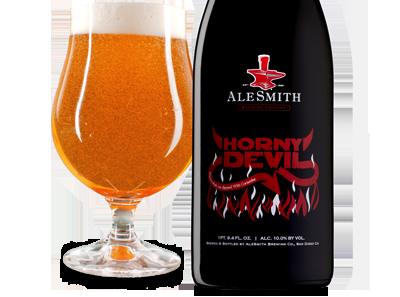 Brewery: AleSmith Brewing Company 
City: San Diego, Calif. 
Description: On paper, Horny Devil is a Belgian Strong Ale brewed with candi sugar and a yeast strain pulled from a Trappist monastery in Belgium—a traditional approach to Belgian beers. But in action, there's so much goodness going on from the inclusion of coriander, Horny Devil transcends standard Belgian status. A bit spicy, a bit fruity…if you're one of those dudes who says, "I don't like Belgians," give this one a shot.
68. 21st Amendment Bitter American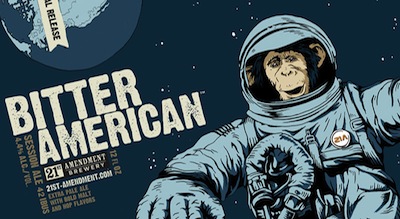 Brewery: 21st Amendment Brewery
City: San Francisco, CA
Description: These days it seems every 21st Amendment beer is as revered as the company's distinctive art. But while Brew Free or Die IPA gets more headlines, Bitter American is the best of the year-round 21A offerings. This session ale has lower ABV than most IPAs (only 4.4%) but it's plenty hoppy, and Bitter American's dry finish is only complimented by hints of citrus and caramel along the way. Yes, that is a monkey astronaut on the can, but, yes, it's also easy to drink more than one.—Nathan Mattise
67. Stone IPA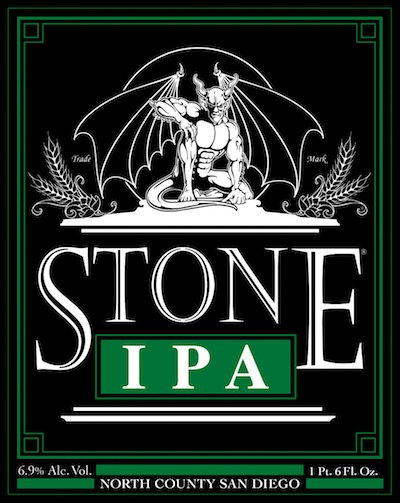 Brewery: Stone Brewing Co. 

City: San Diego, CA.

Description: I can thank Stone Brewing Co. for my introduction to the craft beer world. More specifically, I can thank this beer. This is the one that did it. Stone IPA is wonderfully balanced and incredibly refreshing beer for nearly any occasion. Few IPA's offer such a delicate mix of citrus fruits but still offers a commendable and electrifying surge of hoppiness.—Greg Eckert
66. Tröegs Nugget Nectar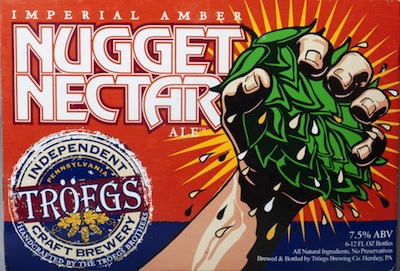 Brewery: Tröegs Brewing Company

City: Hershey, Pa.

Description: This amber ale has some serious bite. Mixed with Nugget, Warrior, Tomahawk, Simcoe, and Palisade hops, Nugget Nectar is a coveted seasonal beer along the East Coast. The first sip overwhelms your palate like a double IPA, but the back end offers a more relaxed caramel and citrusy flavor.—Greg Eckert
65. Ballast Point Sculpin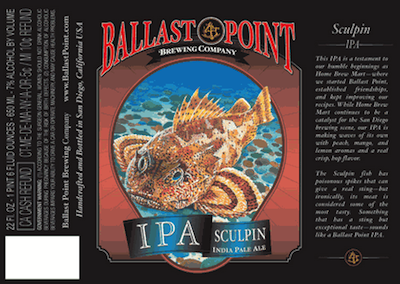 Brewery: Ballast Point Brewing and Spirits

City: San Diego, Calif.

Description: This San Diego IPA is truly one-of-a-kind. The mixture of pine, grapefruit and orange offers a complex and delicious trifecta. The first sip creates a unique wave of hop-flavor, setting it apart from many of the other West Coast IPA's. I am haunted by how unbelievable this beer is—both on tap and in the bottle.—Greg Eckert

64. Upslope Brown Ale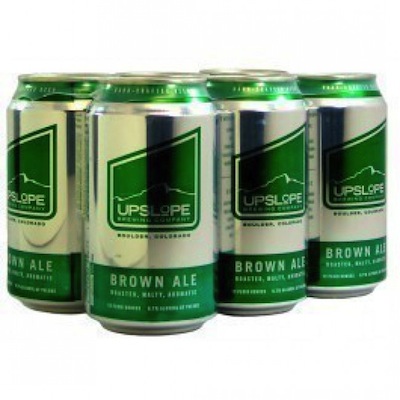 Brewery: Upslope Brewing Company 
City: Boulder, Colo. 
Description: Maybe you don't expect to see a brown ale on a list of big, important beers, because browns can be…underwhelming, at times. But there's nothing underwhelming about this brown. It has just enough of the characteristics that make porters so damned tasty (a malty backbone with layers of roasted coffee, chocolate) but in a supremely drinkable package. It's darker than you'd expect, maybe richer than you'd expect, and definitely tastier than you'd expect.
63. Rogue Shakespeare Oatmeal Stout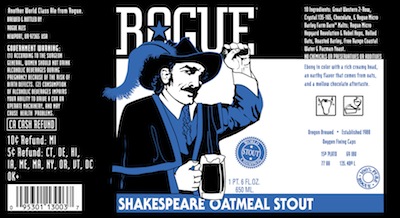 Brewery: Rogue Ales and Spirits 
City: Newport, Ore. 
Description: Creamy. That's what you want when you pop the top of an oatmeal stout, and that's what you get with Rogue's Shakespeare, one of the most highly regarded beers in the American Stout category. Much like its namesake, Shakespeare is so smooth, it may as well be laminated. Chocolate, coffee, some dark fruits, oats…but everything in balance. There aren't a lot of surprises in this bottle, but Shakespeare belongs on lists like this because it delivers.
62. Saint Arnold Fancy Lawnmower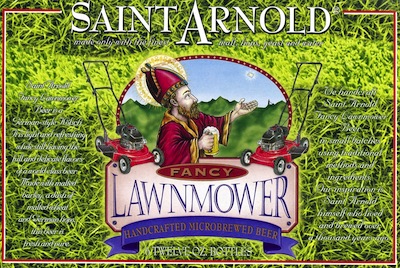 Brewery: Saint Arnold Brewing Company 
City: Houston, Texas 
Description: What is that, a bishop on the label? Mowing a lawn? That is fancy. Most lawnmower beers you find are lagers, but this is a "fancy" lawnmower beer, so Saint Arnold went with a Kolsch, a beer style that's huge in Germany, but underappreciated here in the States. I don't know why—the Kolsch is delicious, refreshing, and a bit more complex than the lagers we're used to drinking on a hot day. Fancy Lawnmower sticks to its German roots. If you haven't had a great Kolsch yet, pick this one up.
61. DC Brau On the Wings Of Armageddon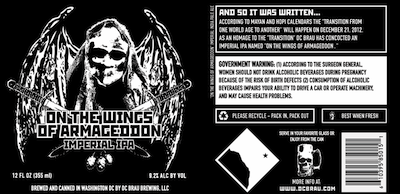 Brewery: DC Brau Brewing Company
City: Washington, D.C. 
Description: Okay, so the end of the world prediction from the Mayans that this beer is named after didn't pan out, but the concept got us thinking—what's the last beer you want to drink on this earth? I don't have a definitive answer (so far I'm narrowing it down to 100), but this imperial IPA would certainly be in the running, with its tango of biscuity malts and citrus hops. It's a limited release, never around as much as you'd like, but DC Brau is currently under expansion, so maybe we'll be seeing more of this "end of the world" worthy brew.
60. Haymarket Angry Birds Rye IPA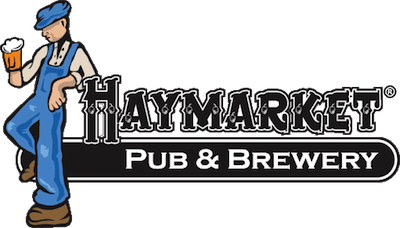 Brewery: Haymarket Pub & Brewery
City: Chicago, IL
Description: Chicago's Haymarket Pub & Brewing is one of those places where the brewers make no concessions to those who don't want to be challenged; they simply plow ahead and make what they want to make. For the last few years, that's included a lot of Belgian-American fusion brews. Their specialty is the Belgian pale ale/IPA, in which they typically mix Belgian yeast strains with aromatic American hops. Angry Birds is maybe their most archetypal example, a potent combination of funky Belgian aromatics and citric American hops. A lot of breweries are making similar beers these days, but Haymarket's IPAs rise above thanks to the clarity of their flavors—the yeast, malt and hop characteristics all stand out crisp and clean.—Jim Vorel
59. Urban Chestnut Schnickelfritz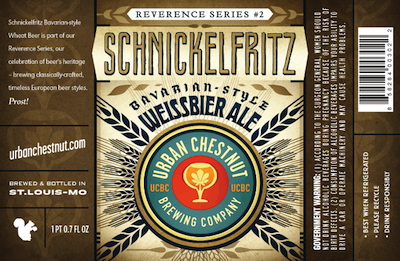 Brewery: Urban Chestnut Brewing Co.
City: Saint Louis, MO
Description: Sometimes, it's just about doing an old-school style better than any of your competitors. Urban Chestnut's Schnickelfritz is a hefeweizen, and a spectacular one. There are no off-flavors, just a clean citrus presence that sits atop pillowy flavors of wheat bread and a subtle undercurrent of clove spice. There's a reason the St. Louis brewery sells so much of this stuff, and the fact that it can be purchased at a place like Busch Stadium is a statement of how far the craft beer movement has come. Stick a wedge of lemon in it if you must, but either way this is the perfect brew to drink outside on a hot summer's day.—Jim Vorel
58. Capital Autumnal Fire Doppelbock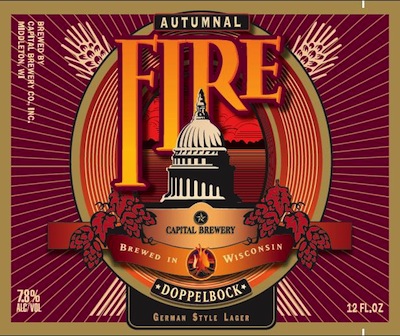 Brewery: Capital Brewery
City: Middleton, Wis.
Description: There are a lot fewer breweries in the U.S. making great German-style beer than there are making great American-style beer. Wisconsin's Capital Brewery is one of the most notable exceptions, because all of their lagers and German-style brews have always been outstanding. For cripes sake, this is a brewery that makes half a dozen different doppelbocks alone—they just know what they're doing with this specific style. Autumnal Fire is maybe their best, with its exceedingly rich malt backbone and rounded flavors of caramel and toffee. For lovers of malt-forward beer, this one is a dream come true.—Jim Vorel
57. Fullsteam Carver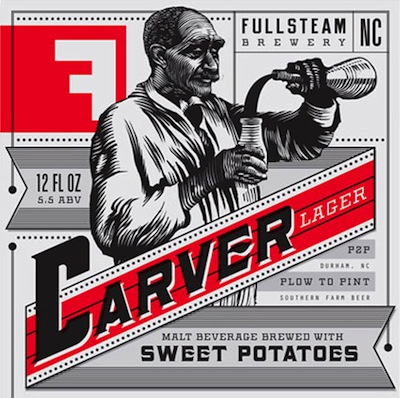 Photo via OhBeautifulBeer
Brewery: Fullsteam Brewery  
City: Durham, N.C. 
Description: Carver deserves your attention first because it's a supremely crisp and drinkable lager, and second, because there are 200 pounds of local sweet potatoes in there, but none of the "sweet potato pie" spice you might expect. It's earthy. Fullsteam is pushing the envelope of sourcing locally (they have a forager series where customers bring in fruit for small batches of beer), with an impressive "plow to pint" philosophy, and Carver is one of the best manifestations of this philosophy. 
56. Green Flash Hop Head Red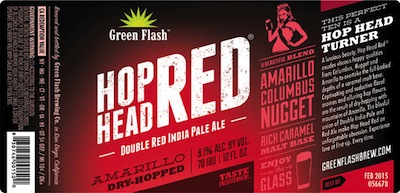 Brewery: Green Flash Brewing Co. 
City: San Diego, Calif.
Description: When American craft brewers see a classical beer style, their idea of reinventing it is typically to hop the ever-living bejeezus out of it, and that's what's going on in Hop Head Red. It's not complicated beer, just a solid foundation of toasty, caramelly red ale, carpet-bombed with Amarillo hops. Its aroma has always reminded me of a freshly mowed lawn. If you're the kind of person who enjoys yard work, that should bring a smile to your face.—Jim Vorel
55. Russian River Blind Pig IPA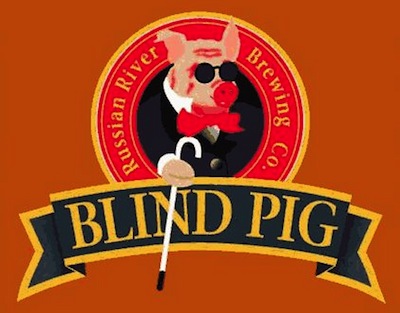 Brewery: Russian River Brewing Company

City: Santa Rosa, Calif.

Description: Prior to drinking this beer, it seemed like every bar I had visited had an owner or bartender that raved about this IPA. Blind Pig IPA became my unicorn-beer for at least two years, until I finally wrapped my hand around a pint of it at Monk's Café in Philadelphia. I could feel the hops in my teeth. In my teeth. How Russian River is able to infiltrate every drop of liquid with such bold hoppiness—yet still offer a sweet caramel and malty back end—is mind-boggling.—Greg Eckert
54. Revolution Anti-Hero IPA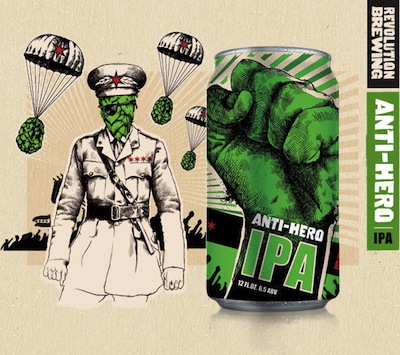 Brewery: Revolution Brewing Co.
City: Chicago, Ill. 
Description: Great IPAs are pretty much a dime a dozen these days, so when one comes along and really makes you take notice, it's always a great feeling. The first taste of Revolution's Anti-Hero is one of those experiences, with a rush of citric hops that immediately morph into other flavors: The pine of your classic West Coast IPAs, along with the tropical fruits of many modern brews. It is a great example of the "Midwestern IPA," that in-between ground where styles mix and merge. But in any blind tasting, Anti-Hero would quickly be identified as an exemplary beer.—Jim Vorel
53. Bell's Hop Slam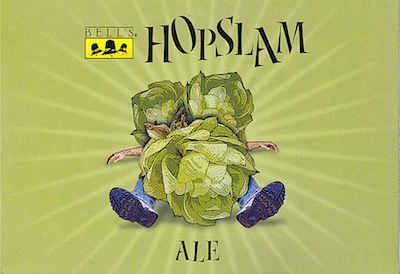 Brewery: Bell's Brewery, Inc.
City: Kalamazoo, Mich.
Description: Only available in the winter, Bell's Hopslam Ale weighs in at 10% ABV. You would never know it, though because the alcohol is well-hidden among the seductive flavors of honey, caramel, and pine. This medium-bodied American-Double has a smooth floral finish that is sure to please.—Greg Eckert
52. Great Lakes Edmund Fitzgerald Porter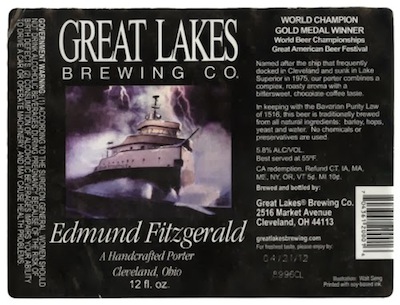 Brewery: Great Lakes Brewing Co. 
City: Cleveland, Ohio
Description: Access to fresh Edmund Fitzgerald might very well be the most agreeable thing about living in Cleveland. Perhaps the definitive American robust porter, it has absolutely everything you're looking for in the style: rich, roasty flavors of chocolate and coffee with just a hint of residual sweetness to give everything depth. It's the perfect dark beer in its modest alcohol range, the kind of thing a lover of porters and stouts could quaff all night long. If you have a friend who believes they don't enjoy dark beer because all they've ever tried is a bone-dry swig of Guinness, you owe it to them to make them try some Edmund Fitzgerald.—Jim Vorel
51. Jolly Pumpkin La Roja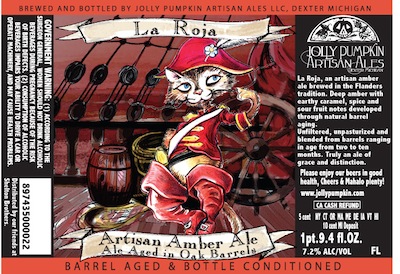 Brewery: Jolly Pumpkin Artisan Ales
City: Dexter, Mich. 
Description: La Roja is an amber with all the caramel notes you expect, but also a sour fruitiness that comes from being stuck in oak barrels for several months. This is what Jolly Pumpkin does best; they use barrel aging, open fermentation and funky yeasts to create "wild ales" that defy expectations and broaden horizons. And look at the cat on the label. So cute. 
50. Toppling Goliath PseudoSue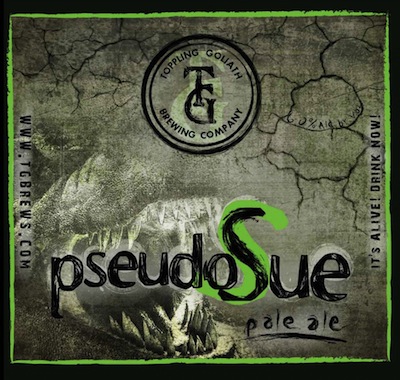 Brewery: Toppling Goliath
City: Decorah, Iowa 
Description: PseudoSue (named after the largest dinosaur fossil ever found) is a single hop beer, allowing you to explore the nuances of the Citra hop—but don't expect an overtly bitter or hoppy brew. Pale ales are typically understated, noted for their balance and drinkability, and PseudoSue is one of the best examples of the style you can find. 
49. Lagunitas Brown Shugga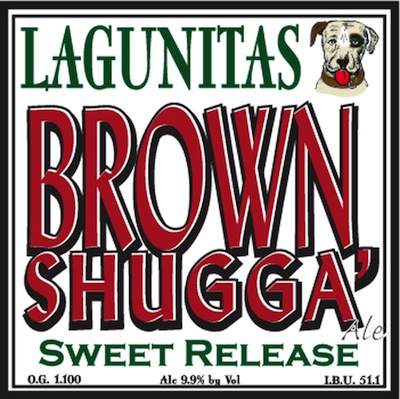 Brewery: Lagunitas Brewing Company 
City: Petaluma, Calif. 
Description: Legend has it that Brown Shugga was an accident—a sort of Frankenstein of a beer that took on a life of its own. It's tough to pen down Brown Shugga's style, so beer geeks tend to just label it as a "strong ale," which basically means it'll knock you on your ass. You should keep this in mind, because even though it hits 10% ABV, this is a ridiculously drinkable beer, thanks to the brown sugar balanced by a moderate hop profile. Mark your calendars and start looking for this one in October. 
48. Avery Rumpkin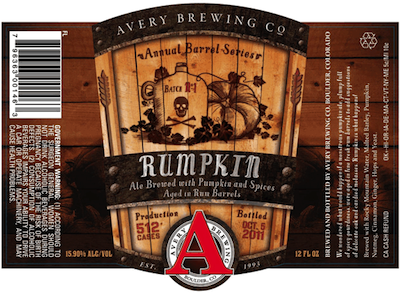 Brewery: Avery Brewing Co.
City: Boulder, Colo.
Description: Beers aged in bourbon barrels were once considered cutting edge, but that was all of five to 10 years ago. Look around the barrel-aging landscape today and you'll begin to see a lot more variation and creativity other than whiskey, with brewers using regular oak barrels, wine barrels, tequila barrels, gin barrels, you name it. So why not an imperial pumpkin ale in rum barrels? Why not make it 18% ABV? Why not spice it with nutmeg, cinnamon and ginger? That's Avery's Rumpkin, and it's determined to make you remember it, as if you could forget.—Jim Vorel
47. Firestone Walker Velvet Merkin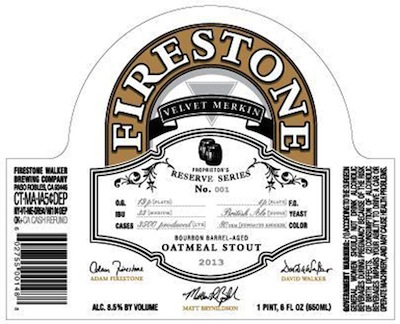 Brewery: Firestone Walker Brewing Co.
City: Paso Robles, Calif.
Description: If there's such a thing as a "session" barrel-aged stout, then Velvet Merkin is it. Lower in alcohol than typical, it's also more refined and subtle. Many beer geeks don't even realize that there exist many degrees of barrel-aging intensity, because for so long almost all barrel-aged beers have been cultivated to get the most flavor possible out of their barrels. Velvet Merkin, on the other hand, uses a much lighter touch, a milder characteristic of bourbon that accentuates flavors such as vanilla while going easier on the oak. Perhaps it's the 10-year Heaven Hill barrels they use, but it's a brew that proves the adage that sometimes less is more.—Jim Vorel
46. Boulevard Tank 7


Brewery: Boulevard Brewing Co.
City: Kansas City, Mo.
Description: Every beer style needs a great commercial example to eventually come along and push it into the limelight, and for saison/farmhouse ale, that beer is Boulevard's Tank 7. It was predated by many wonderful examples of the style, but when Tank 7 went into production it exposed the rustic delights of saison to a much bigger U.S. audience than ever before. Deceptively light and lively for its 8.5% ABV, it's a great example of an American saison, alive with peppery spice and herbal flavors. It pairs great with Thanksgiving dinner and unsurprisingly has become one of Boulevard's best sellers.—Jim Vorel
45. Founders Red's Rye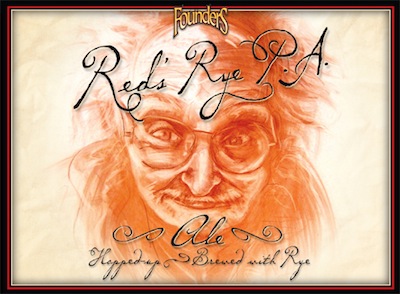 Brewery: Founders Brewing Co.
City: Grand Rapids, Mich.
Description: Red's Rye is a beer with disparate elements that are all in perfect balance with one another. There have been so many rye IPAs that have come onto the scene since this one was first introduced, but Red's Rye remains perhaps the best. You have the substantial malt body of an American red ale, the spiciness of rye and a citrusy hop character reminiscent of Founders' already award-winning Centennial IPA. Together, it's a beautiful canvas. What more could you want?—Jim Vorel
44. Schlafly Pumpkin Ale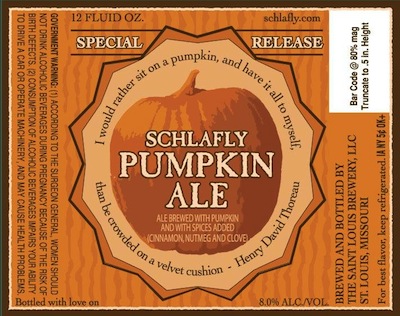 Brewery: Schlafly/St. Louis Beer Co. 
City: St. Louis, Mo.
Description: Pumpkin ales are completely ubiquitous every fall, but finding a good one can be a pretty big challenge for seasoned beer geeks. Some don't have any real "pumpkin" flavor, while others are overflowing with spices or cloyingly sweet. Schlafly is one of the best examples of a widely distributed pumpkin ale—very full-bodied and rich with a restrained sweetness and perfect blend of spices. It's a very tough beer style to master, but this blend hits the nail right on the head.—Jim Vorel
43. Perennial Artisan Ales Abraxas Imperial Stout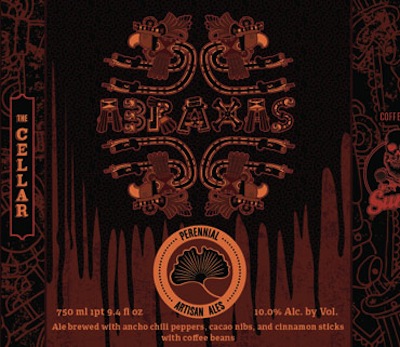 Brewery: Perennial Artisan Ales
City: St. Louis, Mo.
Description: There are a lot of ways to do an imperial stout, but credit to St. Louis' Perennial Artisan Ales for dreaming up a new one: The imperial Mexican hot chocolate stout. This stuff is as loony as it is distinctive. It doesn't seem like it should work—a stout combining ancho chiles, cacao nibs, vanilla beans and cinnamon sticks? It could easily have been an undrinkable disaster, but it's not. Instead, it's a decadent dessert beverage that goes easy on the chile character while embracing the cocoa and especially the cinnamon. It tastes like nothing so much as a "Brown Sugar Cinnamon" flavored Pop Tart. If you find those delicious, I expect you will find this beer delicious as well.—Jim Vorel
42. Three Floyds Zombie Dust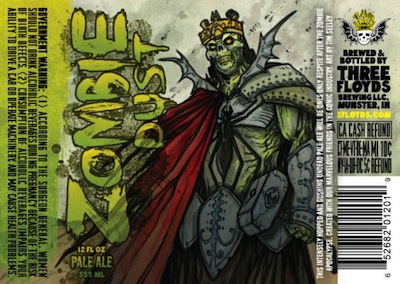 Brewery: Three Floyds Brewing Co.
City: Munster, Ind.
Description: Only Three Floyds would have the balls to call a beer like this a "pale ale." At 6.4% ABV it's stretching the alcohol limits of the style, but more importantly it has the hop presence of an IPA and then some. An ode to the high-demand Citra hop, it's bursting with tropical fruit flavors such as mango and passion fruit, totally unbalanced and not at all ashamed of that fact. This beer has become such a phenomenon for Three Floyds in the Indiana and Chicago areas that it never stays on the shelf anywhere—not even at the brewery. In Chicago, it's routinely picked up by beer geeks from the liquor stores on the day that it arrives. Is it good enough to deserve that kind of attention and obsession? Yes, or very nearly.—Jim Vorel
41. Wicked Weed Serenity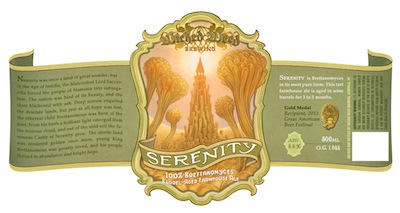 Brewery: Wicked Weed Brewing 
City: Asheville, N.C. 
Description: Funk. That's an apt word to describe Serenity, a Belgian farmhouse ale fermented with Brettanomyces for an unmistakably sour funk. In the world of craft beer, "funk" is a compliment, and Serenity is the George Clinton of the craft beer world, winning gold for American Style Brett Beer at last year's GABF. All evidence is pointing to sours being the future of American craft beer, and Wicked Weed has quickly risen to the forefront of that movement. 
40. Stone Enjoy By… IPA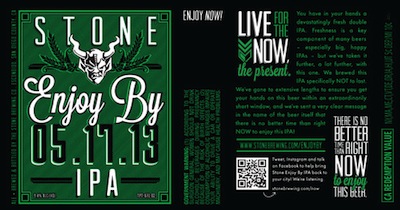 Brewery: Stone Brewing Company 

City: San Diego, Calif. 

Description: At the nexus of brewing prowess and marketing genius sits this Double IPA from San Diego's most successful craft brewer. Several times per year, a limited batch of extremely fresh beer is distributed among four lucky states and one U.S. territory—with a shelf life of about six weeks. With an expiration date factored right into the beer's name, this recipe can take advantage of its bright floral and citrus hop profiles like nothing else in a bottle. What happens when this Stone reaches its Enjoy By date? Nobody knows. It flies off the shelves weeks before its time is up.—Ian Anderson
39. The Bruery Sans Pagaie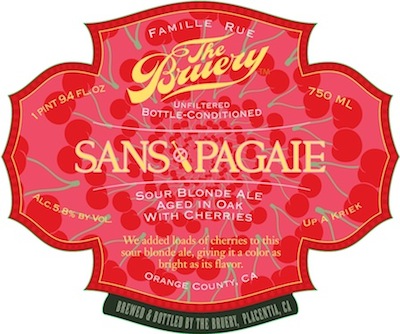 Brewery: The Bruery
City: Placentia, Calif.
Description: The delicate krieks of Belgium are too often misunderstood by American beer lovers. These are not cloyingly sweet beers with the hue of cherry cough syrup; the best krieks showcase the complexities of spontaneously fermented lambics and the tartness of sour Belgian cherries (as well as the bitterness of the pits). The Bruery's Sans Pagaie (which means "without a paddle" in French; get it?) is one of the finest examples of an American kriek. The brew starts as a funky golden ale that sees a secondary fermentation with sour cherries in used wine barrels, and all that time in the oak infuses the beer with vanilla and coconut flavors that are a perfect match for the tart fruit. It's not a by-the-book kriek, but since when is American craft beer about going by the book? -John Verive
38. Firestone Walker Wookey Jack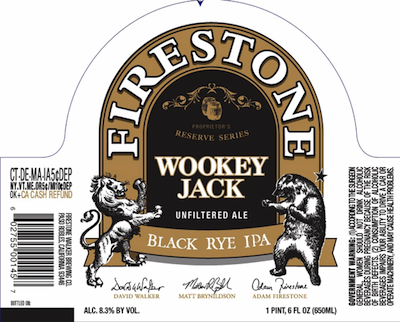 Brewery: Firestone Walker Brewing Co.
City: Paso Robles, Calif. 
Description: Black IPA, American black ale, "Cascadian dark ale," call it whatever you want, but this style is here to stay. It's also pretty hard to do well, but Firestone Walker's Wookey Jack makes great black IPA appear easy. It does exactly what you would hope, lifting the best elements of both "black" and "IPA" into a whole. The hops are over-the-top and distinctly West Coast, which is important because they really need to pop and stand out cleanly in order to hold up the IPA side of the bargain. The beer never falls apart or feels muddled.—Jim Vorel
37. Cascade Brewing Apricot Ale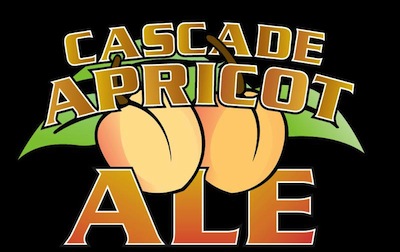 Brewery: Cascade Brewing Barrel House 
City: Portland, Ore. 
Description: A sour that spends up to a year in oak barrels, then several months hanging out with fresh apricots, Cascade's Apricot Ale dances that beautiful line between tart and sweet. This is Cascade's wheelhouse—sour beers that are given a world of complexity from the addition of fresh fruit. They do killer versions with cherry, figs, raspberries, blueberries…but the Apricot Ale might be the best of the bunch. 
36. Odell 90 Shilling Ale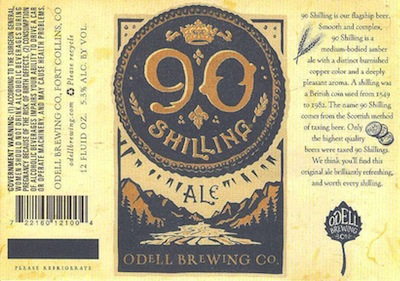 Brewery: Odell Brewing Company
City: Fort Collins, Colo. 
Description: 90 Shilling (named for the tax that Britain used to levy on really good beer) is Odell's flagship, the first brew they introduced to the world back in the '80s. It's a lighter version of a Scottish Ale, with a lot of amber ale qualities—low hopped, easy drinking, slightly malty, slightly creamy…and that's the beauty of the Scottish Ale as well as the amber ale. There's nothing going on inside the bottle that's going to offend you. They're go-to, crowd pleasing beers and 90 Shilling is one of the most pleasing you can find. 
35. Left Hand Milk Stout Nitro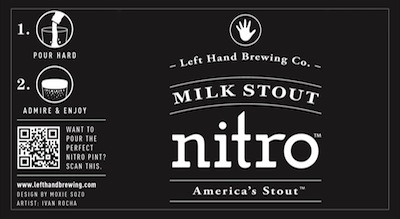 Brewery: Left Hand Brewing Company 
City: Longmont, Colo. 
Description: If you've never had a nitro beer—a beer that's bottled with nitrogen instead of CO2—do yourself a favor, stop what you're doing and go buy this beer right now. Have you ever tasted velvet? Cause this is velvet. Liquid velvet. Nitrogen enhances the creamy body of this already creamy milk stout, turning it into a thick, smooth, mocha dream-boat of a beer. It's all about the gas. 
34. Kern River Brewing Citra DIPA 


Brewery: Kern River Brewing
City: Kernville, Calif. 
Description: At some point, Americans might get tired of big, bold double IPAs. Just like we might get tired of super models and bacon. Until then, we'll keep trying to find beers like Kern's Citra, which is so damned rich and sweet and bitter and pungent with hops, that it elevates your expectations moving forward. Why date a model that isn't super? Or have a meal that isn't wrapped in bacon? Or drink an IPA that isn't a double? 
33. New Holland Dragon's Milk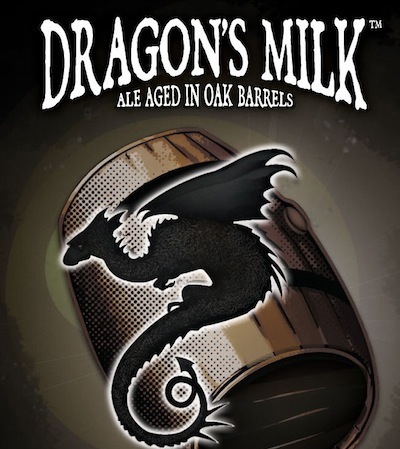 Brewery: Holland Brewing Company

City: Holland, Mich.

Description: This stout smells of caramel but delivers big with all sorts of vanilla. There is a subtle yet captivating hint of whiskey with each small sip. The warmth at the back end mingles almost perfectly with the sweetness of the spices and the blend of chocolate and coffee.—Greg Eckert
32. Jester King Boxer's Revenge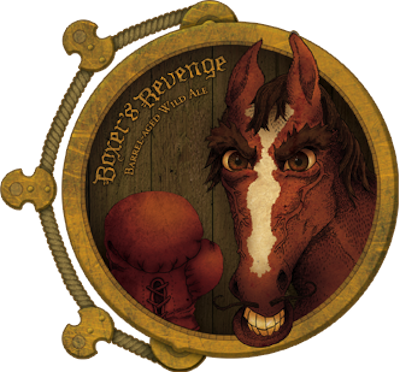 Brewery: Jester King Brewery 
City: Austin, Texas 
Description: It's a shame that Miller High Life has a trademark on its "champagne of beers" slogan, because the line could easily apply to Boxer's Revenge, a wild ale that is as effervescent and light as any bottle of bubbly to come out of France. It's not a beginner's sour beer—expect lots of oak and puckering tropical fruit—but you should be ready for the punch before you pop the bottle. After all, there's a horse with a boxer's glove ready to knock you out on the label. 
31. Funky Buddha Maple Bacon Coffee Porter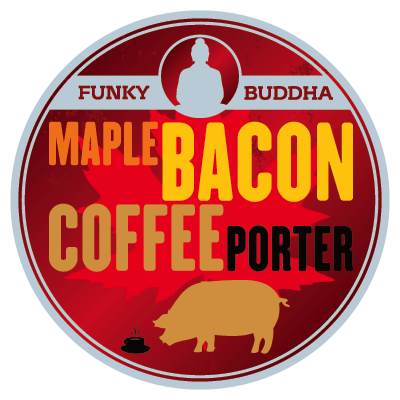 Brewery: Funky Buddha Brewery
City: Oakland Park, Fla. 
Description: With a name like "Maple Bacon Coffee Porter," Funky Buddha has made it a little unnecessary for people like me to describe this sort of beer. What you need to know is pretty much right there in the title. Raise your hand if you don't like maple syrup? Or bacon? Or coffee? Or beer? If you raised your hand, please go elsewhere. This list is not for you. For the rest of you, know that this beer is sweet, creamy, roasted and a little bit salty. Just like the name suggests. 
30. New Glarus Brewing Serendipity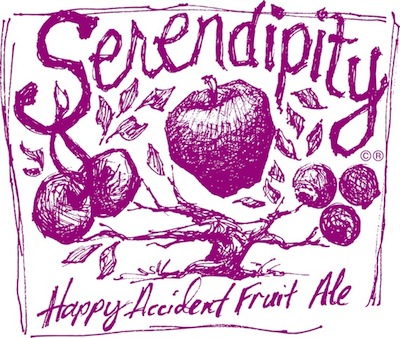 Brewery: New Glarus Brewing Co. 
City: New Glarus, Wis. 
Description: If you're a fan of John Cusack movies, then you know that Serendipity is a "happy accident." Well, this is New Glarus' "hoppy" accident—a beer brewed out of desperation after a severe drought knocked out some of Wisconsin's fruit crops. So New Glarus blended a few different fruits for this beer and came out with Serendipity, a tart brew that knocks you out with cranberries and cherries and begs to be sipped over a cheese plate. Yeah, it's that fancy. 
29. Westbrook Mexican Cake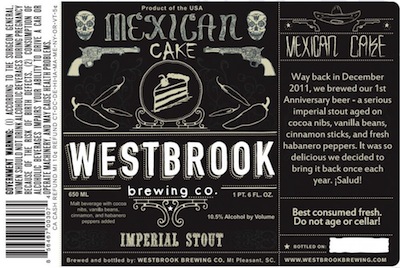 Brewery: Westbrook Brewing Company
City: Mount Pleasant, S.C. 
Description: You celebrate a birthday, you get a birthday cake. Westbrook was simply following these guidelines when they brewed their first anniversary beer, an imperial stout that's aged with cocoa, vanilla beans, cinnamon and habaneros. The result is an ink-black chocolate bomb with layers of spice that's so good, Westbrook decided to bring it back every May. 
28. Alpine Great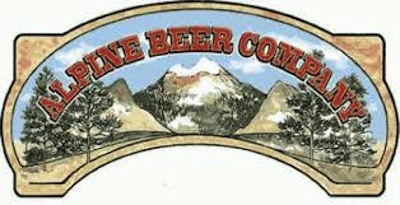 Brewery: Alpine Beer Company

City: Alpine, Calif.

Description: Alpine Great is an American Barleywine-style ale coined as "great" for being aged in Jack Daniels barrels. Weighing in at 14% ABV, Alpine Great immediately delivers a powerful bourbon and caramel mix, with a dash of dark chocolate and a hint of vanilla that will linger and haunt your palate. This gem can be one of the more difficult yet rewarding beers to find outside of California. —Greg Eckert
27. Terrapin Wake n Bake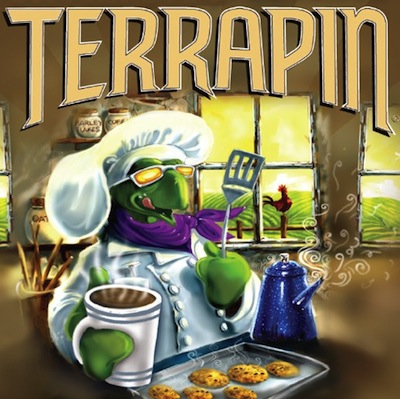 Brewery: Terrapin Beer Company 
City: Athens, Ga. 
Description: Beers like Wake n Bake are why we look forward to winter. This is a meaty coffee oatmeal stout, blended with locally roasted coffee that occasionally gets an added ingredient (like cinnamon rolls). The name and breakfast ingredients aside, you should not drink this beer in the morning. It's burly at 9.4% ABV and will ruin any sort of work productivity you have planned for the day. Or so we hear. 
26. Wild Heaven Eschaton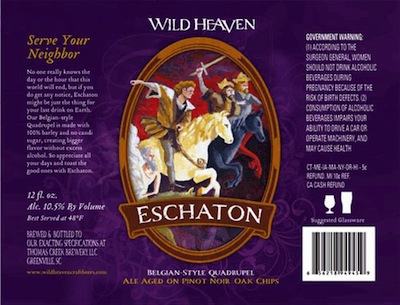 Brewery: Wild Heaven Craft Beers
City: Avondale Estates, Ga.
Description: Okay, so I'll never be able to write about this brewery without all kinds of disclaimers (both of its founders were in my wedding; I invested in its start-up; and the brand-new brewery is two blocks from the Paste office, making it our most local of locals), but holy monk's beard! It's my favorite American quad, bar none. Aged on Pinot Noir oak chips, brewer Eric Johnson takes the brew to a 10.5% ABV without using adjunct sugars, giving it huge flavor and a surprisingly dry finish. If you need a more objective opinion, it has a 92 rating on BeerAdvocate and a 96 on RateBeer. Make sure you track this down the next time you find yourself in Georgia.—Josh Jackson
25. Ten Fidy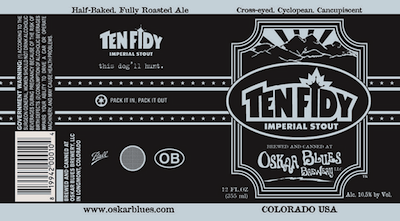 Brewery: Oskar Blues Brewery
City: Longmont, Colo.
Description: Ten Fidy pours as black and nearly as thick as motor oil from its beautiful can and will put to rest any preconceived notions you might have about "canned beer." Dark malts, oats and barley give this a tasty malt backbone, but what really sets Ten Fidy apart from its imperial stout peers is the generous application of hops. It's full of complex, roasty stout flavor without being cloyingly sweet.—Josh Jackson
24. New Belgium Lips of Faith La Folie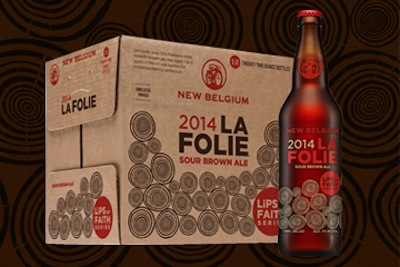 Brewery: New Belgium Brewing Company 
City: Fort Collins, Colo. 
Description: Mad props to New Belgium for achieving "lion" status in the craft beer world with crowd pleasing year-round beers, but still getting jiggy with it with bouts of experimentation, like their Hop Kitchen and Lips of Faith Series. La Folie falls into that limited, big bottle, kind of weird, Lips of Faith Series of beers. This is a legit sour brown that spends up to three years in big oak barrels, unleashing wicked notes of sour fruit. Lots of pucker here. 
23. Jai Alai IPA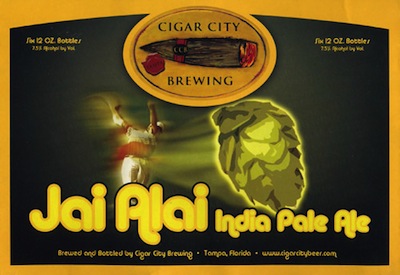 Brewery: Cigar City Brewing
City: Tampa, Fla.
Description: When we did our IPA Challenge, 64 of America's finest India Pale Ales went head-to-head, March Madness-style, in a series of blind tests. The Cinderella of the ball was Jai Alai from little Cigar City in Tampa, Fla. Fittingly, the hop profile represents the Sunshine State perfectly—giant citrus flavors that made you wonder if you were drinking something fresh-squeezed. It's hoppy but with a complete absence of the grassy/pine flavors of certain hops, making it an IPA that may even please people who don't think they like IPAs.—Josh Jackson
22. Founders Breakfast Stout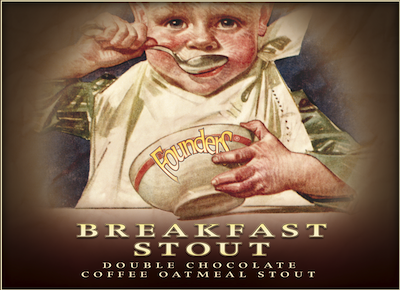 Brewery: Founders Brewing Co.
City: Grand Rapids, MI
Description: Founders Breakfast Stout may have been the first beer I ever truly adored. I'd tasted chocolate beers before, coffee beers, an oatmeal stout here and there. But this was something clearly and distinctively different, at once the best chocolate beer, the best coffee beer and the best oatmeal beer I'd ever had. It's luxurious and silky smooth, rich with dark cocoa flavors and intense in its coffee character. It's also the base to even more sought-after beers: the bourbon barrel-aged Kentucky Breakfast Stout and the maple-bourbon variant Canadian Breakfast Stout. But in many ways, the purity of the original Breakfast Stout trumps even these follow-ups.—Jim Vorel
21. Allagash Curieux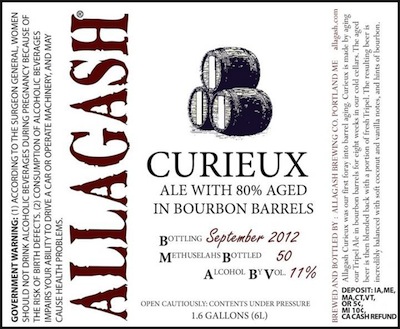 Brewery: Allagash Brewing Company
City: Portland, Maine
Description: Craft brewers love to fill used bourbon barrels with big stouts and barleywines, but Curieux from Allagash bucks the trend. The unique barrel-aged brew is a Belgian-style tripel that, instead of months or years spent aging in the barrels, only sees the inside of Jim Beam barrels for a few weeks. This short contact time provides an intense bourbon flavor that's balanced by blending the aged beer with more freshly-brewed tripel. The results are one of the most drinkable bourbon barrel aged brews around. The bourbon's notes of vanilla and tobacco mesh with the spicy, bready yeast and bright herbaceousness of the golden ale; it's a rare bourbon barrel-aged treat that's more about subtlety than volume.—John Verive
20. Lagunitas IPA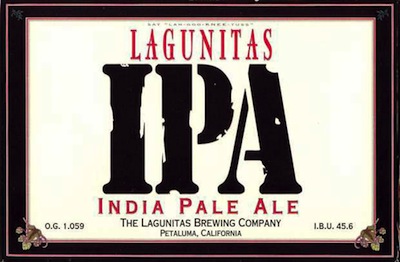 Brewery: Lagunitas Brewing Company
City: Petaluma, CA
Description: Every Top 20 beer list should have something you can go out and buy right now, without searching obscure beer forums to find. Lagunitas IPA is world class and available. Among its many obsessions, the Bay Area worships at the altar of IPA (see the new-iPhone-like lines for Pliny the Elder every Spring). While there are rarer and more sought-after offerings available, nothing beats Lagunitas IPA. Quite simply, it could be the best widely available regional beer in the U.S. It's got a pleasant citrus smell, an almost piney and hops flavor, and a delightfully slight bitter finish. Welcome to West Coast IPA 101, you'll want to take this class again.—Nathan Mattise
19. Great Divide Yeti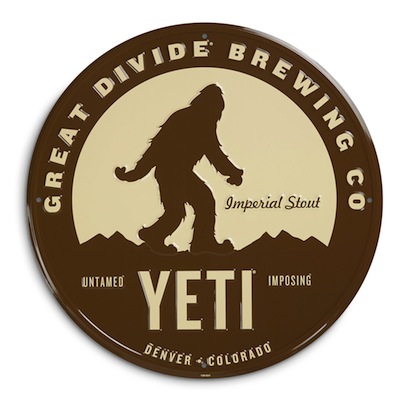 Brewery: Great Divide Brewing Co.
City: Denver, Colo.
Description: Yeti is a great example of how some craft breweries have been able to build an iconic product and then leverage it into brand extension. On its own, Yeti is a great imperial stout, quite boozy and intimidating. But from there, Great Divide takes it even further with a wide range of flavor expressions and spin-offs of the same beer. There's Oak-Aged Yeti, Espresso Oak-Aged Yeti, Chocolate Oak-Aged Yeti, Barrel-Aged Yeti and Oatmeal Yeti just for starters in wide circulation, and even more unique varieties if you're able to visit the tap room in Denver. It's a more interesting method of experimentation because it gives you a baseline: "How does oak-aging change an already great imperial stout?" What about oak-aging with coffee? And on, and on. The whole series has a very "homebrew" vibe, because this is exactly how homebrewers learn their craft.—Jim Vorel
18. Hill Farmstead Everett Porter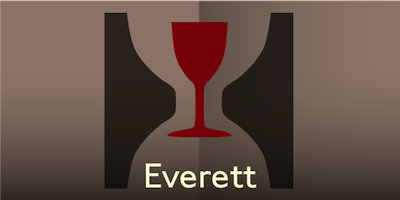 Brewery: Hill Farmstead 
City: Greensboro, Vt. 
Description: Hill Farmstead might be best known for its IPAs, but when you talk about great American porters, you talk about Everett. You gotta love the porter as a style because it exists in this limbo realm—not burly enough to be a stout, but too decadent to be lumped in with most other ales. Everett owns its "porterness," boasting layers of chocolate and coffee, a tinge of hops and a smooth, medium body that keeps the package moving down your gullet, one bottle after the other. 
17. Samuel Adams Utopias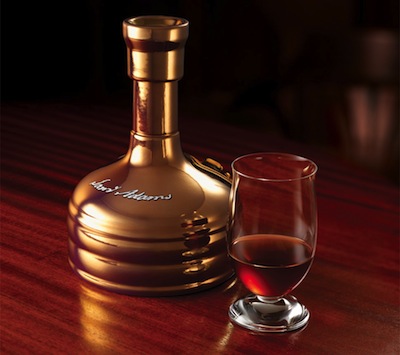 Brewery: Boston Beer Co. 
City: Boston, Massachusetts 
Description: Utopias is a craft beer like no other; its flavor is closer to a sherry or port than the Boston Lager that the brewery is best known for. This unique beer is created by blending various barrel-aged brews, some nearly two decades old, into a boozy (the 2013 bottling was over 27%ABV) and syrupy elixir that coats the palate with strong oaky flavors. The base brew is aged in everything from Buffalo Trace Bourbon barrels to Portuguese port casks to Hungarian oak tuns that hold the brewery's "Kosmic Mother Funk," and the result is thick with malty sweetness, rich in fruit notes, and undeniably potent. A top-shelf brew that redefined malt liquor, Utopias is a unique beer drinking experience.—John Verive
16. Troegs Mad Elf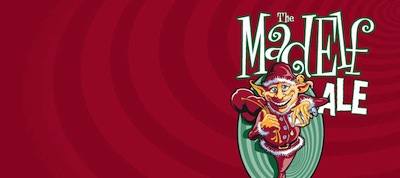 Brewery: Tröegs Brewing Company

City: Hershey, Pa.

Description: As a Pennsylvania resident, Mad Elf has a special place in my heart. I will mention that this winter release differs greatly depending on if you have it on tap or from the bottle. In the bottle, the boozy cherry flavor is all over the place. On tap, the cherry flavor relaxes a bit, which allows the honey, dark chocolate, and the handful of spices to come to the forefront. Either way, we're talking about drinking a sweet Christmas beer here. Perhaps the ultimate Christmas beer.—Greg Eckert
15. Dark Horse Plead the 5th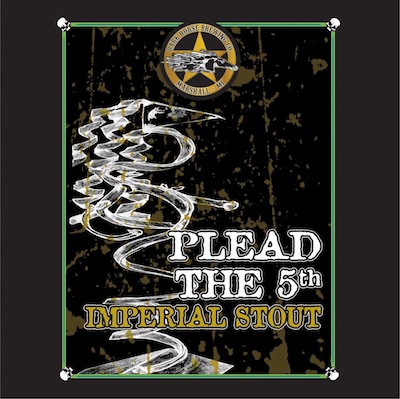 Brewery: Dark Horse Brewing Company

City: Marshall, Mich.

Description: This February release rates near the top among all Russian Imperial Stouts. Somewhere in this brew 11% ABV is hidden, but you wouldn't know it. The dark chocolate, coffee, and cherry mask the booziness, leaving this Imperial Stout incredibly easy to drink. Look for it in February, just when you need a really big bottle of something burly.—Greg Eckert
14. Clown Shoes Undead Party Crasher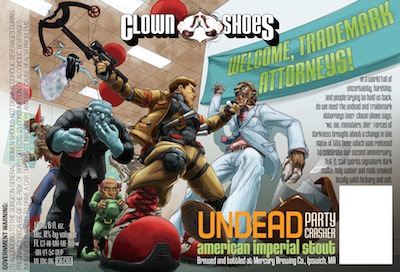 Brewery: Clown Shoes
City: Ipswich, Mass.
Description: Clown Shoes has a bit of a flair for the dramatic, which could easily devolve into gimmickry if they weren't able to deliver outstanding beers on a regular basis. For this imperial stout, they included a small amount of holy water, along with malt smoked on "the burning staves of hickory vampire-killing stakes." Typically that would be the kind of thing that would turn me off of a beer, but once you taste this stuff it's an easy indulgence to forgive. Roasty and dry with a tasteful amount of smoke and great espresso flavors, this is absolutely delicious stuff. Many smoked beers go overboard; this one strikes a beautiful balance where the smoke simply complements all the other flavors of an expertly crafted stout. It's outstanding.—Jim Vorel
13. Brewery Ommegang Three Philosophers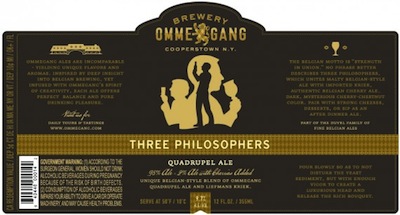 Brewery: Brewery Ommegang

City: Cooperstown, N.Y.

Description: This year-round release is a relatively easy-to-find Quadrupel for East Coasters. It's actually a blend of two vastly different beers—98% quadruple and a dash of kriek. The result? The first sip provides a nice mixture of dark fruit with a slight yet delightful cherry tartness. The back end is slightly warm and boozy yet balanced and mellow with a mix of earthy spices. —Greg Eckert
12. North Coast Old Rasputin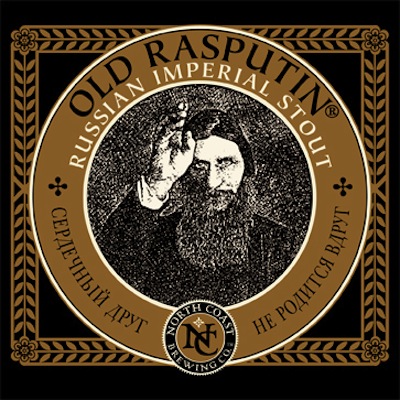 Brewery: North Coast Brewing 
City: Fort Bragg, Calif. 
Description: While many beers on this list attain some prestige because of rarity, North Coast's Old Rasputin is so available that its inclusion is a testament to the quality of the brew. Some breweries perform a reverse-groundhog act with their stouts, using them to herald the coming of winter. Old Rasputin is the year-round comfort beer that's always available to hug you with its rich coffee and chocolate flavors. If you're craving a full-flavored stout, and winter is nowhere in sight, Old Rasputin is just what the doctor ordered.—Don Ayres
11. Avery Mephistopheles Stout 


Brewery: Avery Brewing Company 
City: Boulder, Colo. 
Description: Here's what's weird about Mephistopheles—it's one of the hoppiest beers Avery makes, with an IBU rating that hits double IPA standards. But it's a stout, with all the stout sweetness that you'd expect. It is complexity in a bottle. Let it age and all of the chocolate, licorice, coffee and hoppy notes inside the bottle get even more pronounced. Oh, and it hits 17% ABV, but it comes in a six pack. WTF? Weird, I say. Weird. 
10. Goose Island Bourbon County Stout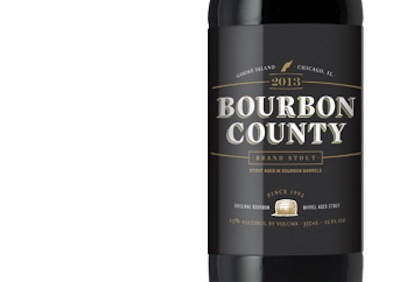 Brewery: Goose Island Beer Co.
City: Chicago, Ill. 
Description: In terms of "influential beers" for the current craft beer landscape, it would be difficult to pick a single more important beer than Bourbon County Stout. When it first rolled off bottling lines just over 10 years ago, nobody had tasted anything like it before, and that immediately made it a prestige beer for Goose Island, long before the brewery's acquisition by Anheuser-Busch. Its barrel-aged character still packs a wallop today, and that's not even including the many variants such as Bourbon County Coffee or a spin-off like Bourbon County Barleywine. Unlike some of the more subtle barrel-aged brews, this one gets right up in your face—it pretty much tastes like licking the inside of a barrel. This makes it a great beer for aging, and considering how long it's been around, it's a great candidate for setting up a vertical tasting. Just try to make sure you have a few other drinkers on hand, or things could go very badly.—Jim Vorel
9. Sierra Nevada Bigfoot Barleywine-Style Ale


Brewery: Sierra Nevada Brewing Co.
City: Chico, Calif.
Description: What Bourbon County Stout is to barrel-aged beer, Sierra Nevada's Bigfoot is to the American Barleywine style. It was once practically unique, one of only a few examples being brewed in the country, alongside beers such as Anchor's Old Foghorn. It's remained a classic example of the style, brimming with candy-like caramel sweetness and a backbone of West Coast hops. It tastes like the wizened grandfather of Sierra Nevada Pale Ale, and that's pretty much what it is. It's one of the few annual releases that has been around since the 1990s and still gets people excited on a yearly basis. You've gotta pay homage to a classic like that.—Jim Vorel
8. Firestone Walker Parabola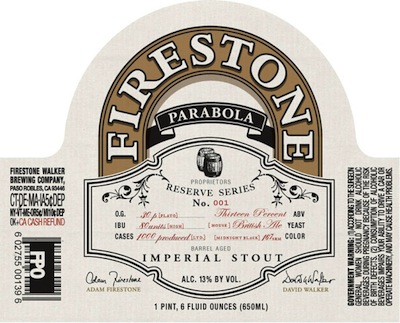 Brewery: Firestone Walker Brewing Company
City: Paso Robles, California
Description: Bold and inky bourbon-barrel-aged imperial stouts are a common site at bottle shares and beer events; they're a style that gets beer fans excited. Firestone Walker's Parabola is one of the finest examples of these American originals for one simple reason: balance. At least eight varieties of malt (plus oats) are used to create a complex and rich base for the roasty, chocolate-y 14% alcohol Russian imperial stout, and all that malt flavor is tempered by the bold oak and bourbon flavors from a year spent in the barrels. A few sips is sometimes all you want to fully enjoy a barrel-aged stout, but Parabola is not just bold and balanced, it's dangerously drinkable.—John Verive
7. Victory Prima Pils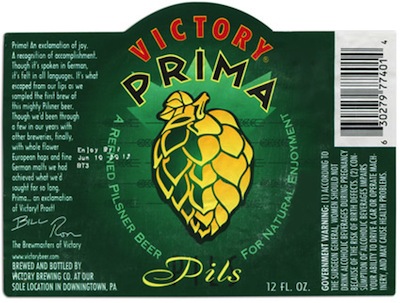 Brewery: Victory Brewing Co.
City: Downington, Pa. 
Description: If more people drank Prima Pils, they would have a better understanding of what the word "pilsner" truly meant. Unfortunately, that term has been associated over the years with the flagship products from breweries like Miller, whose conception of "pilsner" was nothing more than an American adjunct lager. Thankfully, a beer like Prima Pils flips that script and reveals the character of a true Czech-style pilsner, which is among the more hop-forward beer styles out there. Light in body but filled to the brim with the spicy character of Saaz hops, it's both refreshing and complex. Drinking one Prima Pils should be enough to convince most nascent beer geeks that pilsner is a worthwhile endeavor after all.—Jim Vorel
6. Lost Abbey Duck Duck Gooze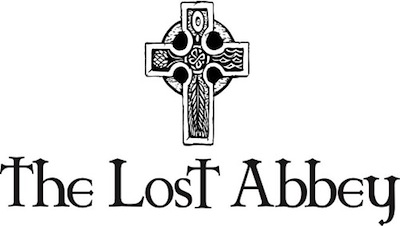 Brewery: The Lost Abbey
City: San Marcos, Calif. 
Description: Lost Abbey's Duck Duck Gooze is a craft-beer whale in every sense of the word. At the 2013 Great American Beer Festival, one of the longest lines in the Denver Convention Center was for a one-ounce pour of this magical brew. The reason they stood in line for less than a shot of beer was because they knew that this might be their only chance to try it. Initially released in 2009, and again in 2013, Duck Duck Gooze is an oak-aged sour beer that's done in the Belgian Gueuze style of blending batches of young and old lambic beers and allowing them to ferment again. The resulting beer has plenty of sour fruit flavors with the funkiness you expect from The Lost Abbey. Make friends with someone who has a bottle, because it isn't scheduled to be released again until 2016.—Don Ayres
5. Cigar City Hanaphu Imperial Stout 



Brewery: Cigar City
 Brewing
City: Tampa, Fla.

Description: Each year in March, Cigar City has a Hunahpu Release Party to celebrate the release of this coveted Florida Imperial Stout. It's the kind of party that's so coveted, unscrupulous individuals have developed counterfeit tickets just to get their hands on this limited-release beer. Seriously. It's a problem. Every beer ranking site in the world puts Hanahpu near the top of the pecking order, and the hype is well-deserved thanks to the balance between cocoa, vanilla and chilis. —Greg Eckert
4. Founders KBS (Kentucky Breakfast Stout)


Brewery: Founders Brewing Company
City: Grand Rapids, Mich.
Description: Finding a Founders KBS during its annual April release might be difficult, but once you do get your hands on a bottle, this massive beer (11.2% ABV) sure goes down easy. Cocoa, coffee and vanilla flavors balance the boozy effects of barrel aging. KBS spends a year in bourbon barrels stored in cool, dormant gypsum mines under the streets of Grand Rapids. It's the king of imperial stouts, and if you can find its retired Canadian cousin, CBS (aged in maple-syrup-bourbon barrels), you're in for an extra-special treat.—Josh Jackson
3. The Alchemist Heady Topper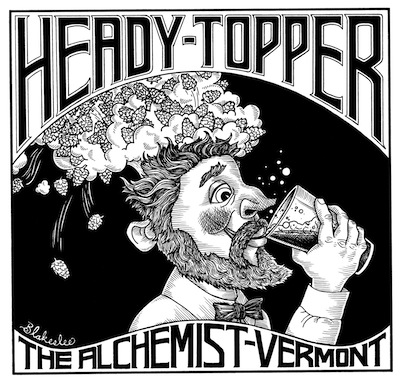 Brewery: The Alchemist 
City: Waterbury, Vt. 
Description: Craft beer drinkers are a dedicated bunch, and no year-round beer inspires as much devotion as The Alchemist's Heady Topper. If you're lucky enough to live within their small distribution area and you haven't experienced this unfiltered hop bomb, you're just not living right. While other breweries would rather have you decant their beers into proper glassware, The Alchemist flat-out orders you to drink Heady Topper out of the can. The amazing thing is that whether you're drinking it from the can or a glass, the bold citrus and pine flavors overwhelm your palette in the best way possible, leaving you wondering if you've actually been alive up until this point. How crazy are Heady Topper devotees? The Alchemist actually closed their retail store in late 2013 because of traffic issues, and won't be opening a new location for a few months. Until then, your best bet to snag a can of this hoppy elixir is to luck into a shipment at a bottle shop during the hour it takes to completely sell out.—Don Ayres
2. Russian River Pliny the Elder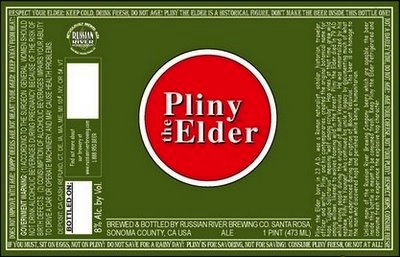 Brewery: Russian River Brewing Company 

City: Santa Rosa, Calif. 

Description: Most West Coast bottle shops place a two-bottle limit on Pliny the Elder, which is the only reason its ever possible to find 16-ouncers of this limited-batch Double IPA. It strikes such a sublime balance between four kinds of hops, even the most generous of spirit would hoard the stuff, lock their doors, spurn their loved-ones…you get the picture. Finding it on draft offers an even rarer pleasure. Out of the keg is where this beer truly excels, and when it turns up you'll find out who your real friends are. This is quite possibly the perfect big IPA.—Ian Anderson
1. Three Floyds Dark Lord


Brewery: Three Floyds Brewing Co.
City: Munster, Ind.
Description: Without Dark Lord, it's hard to say how different the current craft beer landscape in America might be. As one of the first true "whales," those beers that the truly geeky and dedicated go out of their way to track down at any cost, Dark Lord established the patterns and expectations that all the other whales have followed. A single-day release, a huge festival and exorbitant prices were all established as something to be expected with special brews, but never to be lost in the shuffle is the fact that Dark Lord really is special. A massive, astoundingly rich stout, it pours down the throat with a viscous consistency like motor oil. This is cigar beer without a doubt, too overpowering for many palates, but a rich reward for others. Once you've felt it warm your chest like a dram of whiskey, it's hard to think of many comparable brews.—Jim Vorel